Health
How are Dental Veneers use for teeth?
What are Veneers?
Dental Veneers are mainly used for cosmetic purposes, to improve the shape, size and colour of patients teeth. Usually the front ones. This can be achieved by reshaping, improving the structure or the colour of a tooth, and closing small spaces.
Veneers have been used for almost 50 years and although the techniques have changed, the purpose remains very similar. Dental veneers were used by Dr. Charles Pincus to improve the smile of Hollywood actors during photoshoots and filming. These veneers were a removable cap which had to be taken out during meals and sleeping. They were not originally a permanent solution.
This is no longer the case and veneers today are designed to be a long term solution to improving the look of a person's smile. Using thin shells of ceramic they are bonded to the front of the teeth. You might be wondering what do we mean by bonding? Bonding is the process of applying a tooth colored luting resin to the patients tooth and the thin ceramic veneer. Which then bond to the tubules in the tooth structure, creating an incredible strength of adhesion.
Dental Veneer Procedure
Getting a dental veneer usually requires three trips to the dentist – one for a consultation and two to make and apply the veneers. One tooth or many teeth can undergo the veneering process at the same time.
Diagnosis and treatment planning 
You will tell your dentist the result that you are trying to achieve. During this appointment, your dentist will examine your teeth to make sure dental veneers are right for you and discuss the procedure  and some of its limits. They may take X-rays and possibly make impressions of your mouth and teeth.
Preparation
To prepare a tooth for a veneer, your dentist will reshape the tooth surface, which is an amount nearly equal to the thickness of the veneer to be added to the tooth surface. You and your dentist will decide whether they numb the area before trimming off the enamel.
Next, your dentist will make a model, or impression, of your tooth. This model is sent out to a dental laboratory, which makes your veneer. It usually takes 2-4 weeks for the veneers to come back from the laboratory. Temporary dental veneers can be used in the meantime.
Bonding
Your dentist will place the veneer on your tooth to examine its fit and color, repeatedly removing and trimming the veneer to achieve the proper fit, before permanently cementing it to your tooth.
The veneer color can be adjusted with the shade of cement to be used. Next, to prepare your tooth to receive the veneer, your tooth will be cleaned, polished, and etched. Etching roughens the tooth to allow for a strong bonding process. A special cement is applied to the veneer and it is then placed on your tooth.
Once the veneer is properly positioned, your dentist will shine a special light beam on it to activate chemicals in the cement, causing it to harden very quickly. The final steps involve removing any excess cement, checking your bite and making any needed adjustments. Your dentist may ask you to return for a follow-up visit in a couple of weeks to check your gums and the veneer's placement.
The purpose
Dental veneers are a very versatile treatment option that can be used for just about any cosmetic or restorative problem. The purpose of dental veneers is to improve the shape, size, appearance or functionality of the tooth beneath.
Ultimately, they are used to improve the person's aesthetics and ability to eat and chew like normal. Examples of problems that dental veneers can address include the following. 
Teeth that are cracked or chipped

Stains that cannot be removed with teeth whitening

Fractures or breaks 

Teeth that are too short or too small compared to those surrounding
Sharp edges or rough spots
Again, each patient will have varying problems, but for the most part, dental veneers can be used to address a wide variety of problems. The ones listed above are the most common; however, specific imperfections can be addressed during a consultation with a dentist.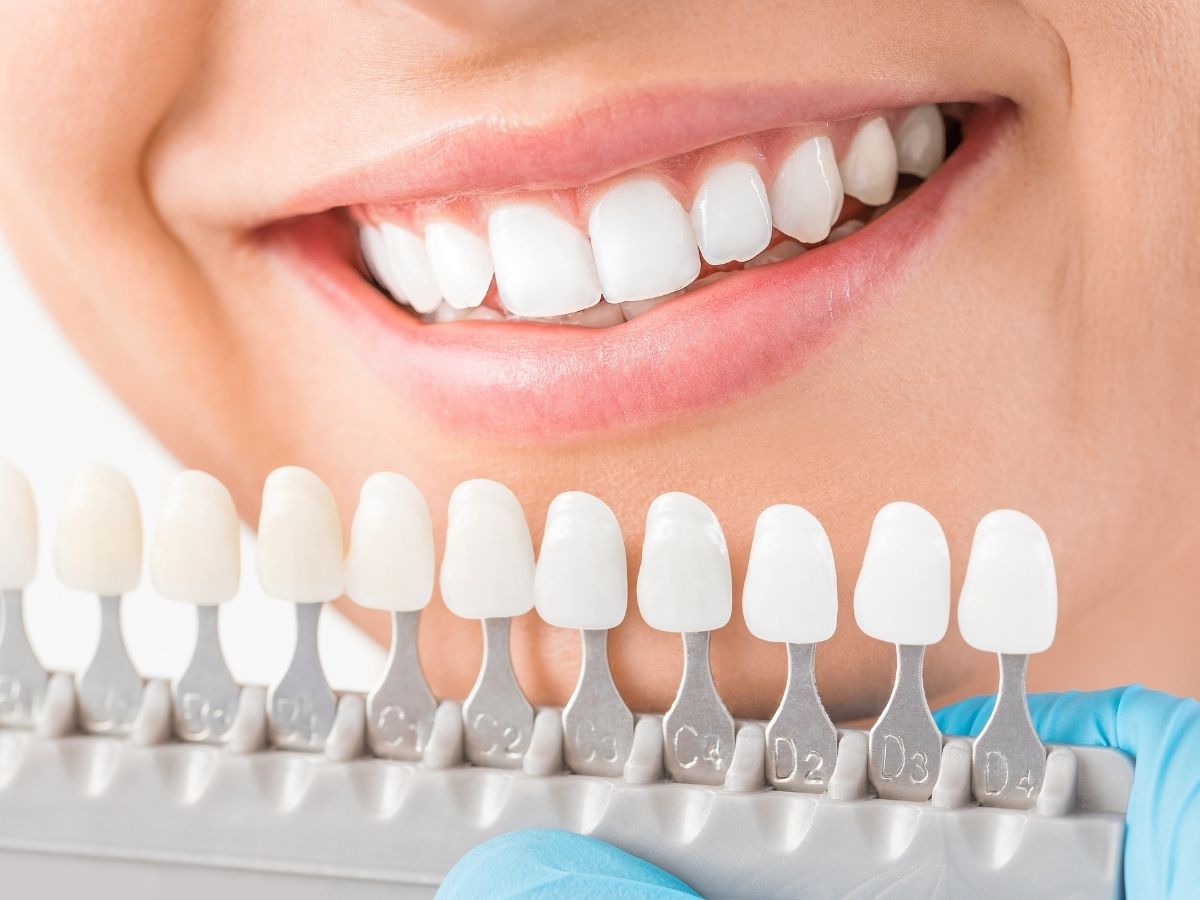 Before you get veneers
Your teeth and gums must be healthy before you get veneers. Your dentist can treat any disease or decay before your veneers are placed. Veneers are not always a good choice for patients who clench or grind their teeth, because the thin veneers may chip or break. If you clench or grind your teeth, your dentist may suggest you wear a plastic dental night guard while sleeping.
Although your dentist removes as little tooth enamel as possible for veneers, the process cannot be undone once the enamel is removed. It is possible for veneers to come loose over time. In that case, new ones might be needed. As with all your dental care Clinic, discuss all your expectations and treatment options with your dentist. Regular dental visits are a must for keeping your teeth and gums healthy.
After you get veneers
Veneers can chip or break under pressure. Avoid biting your fingernails and chewing on hard objects, such as pencils or ice. It may take you a few days to get used to the feel of your veneers. But do let your dentist know if your bite does not feel right after the veneer has been placed.
He or she will correct it before you leave the office. Keep your teeth and gums clean by brushing and flossing each day. You can still get cavities under or around veneers. Look for dental care products that show the American Dental Association's Seal of Acceptance. This says that a product has met ADA standards for safety and effectiveness