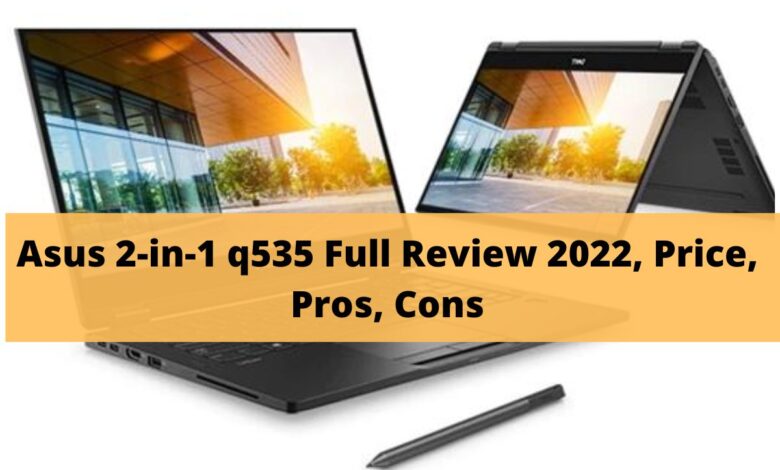 The laptop is a common need of every student and professional now. But when it comes to buying a new laptop they get confused in choosing the right laptop for them. Every person has their own needs, some are required gaming, some need it for study purposes, and some need it for work. Not every laptop is suitable for every person. In this article, I will talk about a very special laptop Asus 2-in-1 q535 which has all features to deal with every need. This can be used by students, professionals, and kids as well. I will share all the important details related to it. So you have to read this article till the end.
What is an Asus 2-in-1 q535?
This is basically a device that is made with much care and technology so it can meet the needs of every person. Its capabilities are so wonderful that students and professionals can't get over this device. It is a multifunctional device for example you can work and play on it. 
Specialties:
The Asus 2-in-1 q535 has so many incredible specialties it has 16GB ddr4 ram and windows 10 OS.  It is an intel core i7 processor with an HD display. You will get three USB ports, one headphone plugger, and one sd card slot. This is a very versatile device that is excellent in working and can help you to reduce your burden.
Features of Asus 2-in-1 q535:
 You can never find such a perfect device that is excellent at working. It is such a portable and lightweight device and if we talk about its storage then you can have never-ending space. Now let's talk about its features in detail.
The number one factor that you need to notice before buying any device is its display. Asus contains a 15.6 4lk UHD panel. If we talk about its visuals then they are just wow.
The laptop has a very fine sleek appearance that catches the eye of buyers. It's Really slim and easy to carry. The body is designed with aluminum and for a more professional look, it has a black bezel all around the screen. The most interesting thing that I am going to mention about this masterpiece is that you can convert it to a tablet whenever you want. This design makes it very handy to carry. Like your mobile phone, all the recent technologies are part of this laptop. You can add facial and fingerprint locks. It can be used both by students and professionals.
Harmon Kardon speakers are aided in making the speakers of this device. You can have very clear and distortion-free voices. The sound quality is amazing when you listen to songs you'll get lost in. Let me tell you one thing speakers are present at the bottom.
If your device has a good battery life then you will never want to give it up. The asus 2-in-1 q535 has long battery life. You can use it for 7 hours after charging it. It is very fast to charge. You can charge 50% of the laptop in just 30 minutes. The amazing feature has made it more popular.
Like all other laptops, it also has Bluetooth and wifi connections that work smoothly. You can have one charging slot, one sd card slot, two USB slots, and a headphone jack. This device is really helpful for every person because it is a master in doing a variety of tasks.
Pros and cons of Asus 2-in-1 q535:
Every device has some good aspects and some bad. Now let's have a look at this device's aspects.
Pros:
You can use it as a laptop and as well as a tablet. This convertible technology makes it very easy to carry. Students can carry it to their schools.

The latest technology in facial and finger locks is very helpful to keep it secure.

The 16Gb ram is helpful in carrying multiple functions.

The battery life is phenomenal and can be used for 12 hours straight without any issue.
Cos:
It gets warm sometimes.

It is more expensive than other laptops.
Conclusion:
In this article, we have talked about a  very amazing laptop, the Asus 2-in-1 q535 which is excellent in working, and due to its unique features, it is used by every person. I hope you like this article.
Read also: Xvideostudio.video Editor App io Download Apk (2022)